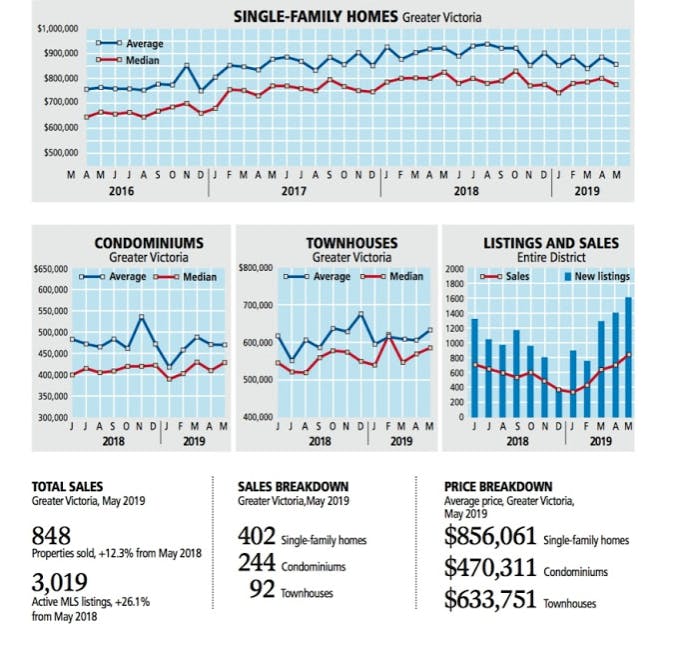 The capital region real estate market's slow start to 2019 appears to be a thing of the past, according to numbers released Monday by the Victoria Real Estate Board.
Last month, the number of sales and the number of listings both jumped significantly compared with last month and last year.
There were 848 sales last month in the region, up from 696 in April and the 755 recorded in May last year. There were 3,019 active listings at the end of May, a 9.7 per cent increase over April's 2,751 and a 26.1 per cent increase over the 2,394 listings at the end of May 2018.
Cheryl Woolley, president of the board, said it's hard to say what was behind the slow start or the improved May numbers.

"The numbers were encouraging but it's hard to draw conclusions about what might be happening there," Woolley said. "With all the policy changes and the [mortgage] stress test, I think a lot of people had to go back to the drawing board and reassess what they could afford. And I think that had a lot to do with the slow start."
As for the increase in May sales, Woolley said segments of the market have been strong.
"Anything on the market that is new, priced appropriately and in an area people are looking like the central core, well, if it's priced right it goes fast … and may see multiple offers," she said.
The market is also reflective of continued strength in the local economy, as Victoria has the lowest unemployment rate in the country at 3.1 per cent.
Woolley said despite the increase in purpose-built rental — built in part for a young, growing workforce — it's not likely drawing buyers away from the resale market.
"I think there are definitely people stepping back from the market due to the stress test, but they still seem to want to purchase when they can," she said. "That there are more purpose-built rental units on the market gives them more housing choices while they are saving money [to buy]."
Condo sales led the way in May with 244, a 20.2 per cent increase over the total sales in April. Single-family home sales jumped 18.9 per cent to 402 in the region compared with the previous month. The sales of townhomes increased 17.9 per cent in May to 92 from 78 in April.
The May sales numbers are in line with the 10-year average of 813 sales.
The highest number of sales in May recorded was 1,289 in 2016, and the lowest was 441 in 1990.
Woolley characterized the market as balanced but complicated, and said in what has been an unpredictable year so far, she's not sure what the summer has in store.
"It's wait and see," she said. "I don't want to make any predictions."